Lipofilling – long-lasting facial contouring and skin rejuvenation using the patient's fat
As the years go by, your skin loses its elasticity. On top of that, you may also see volume redistribution at your temples, cheeks, eyes and cheekbones, not to mention sagging jowls. The effect of all of this? Your face no longer looks as young and dynamic as it once did. In addition to the options for surgical procedures, or facial injections using synthetically produced fillers that break down after a few months, it is also possible to work with the patient's own fat. Lipofilling – facial contouring using this fat – is a new, ideal treatment method for a long-lasting volume improvement and improvement of skin quality.
Your Specialist for lipofilling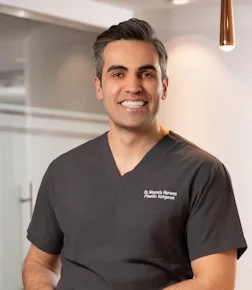 Dr. med. Narwan
Medical Specialist for Plastic and Aesthetical Surgery
Do you have any questions about facial treatments using your own fat?
The advantages of facial contouring and wrinkle filler injections using the patient's own fat:

After 3–5 months, the results of this technique will become permanent.
Very low-risk, as the filler material comes from your own body.
Lump formation or allergic reactions almost never occur.
There is no need for regular repeat treatments, unlike other methods of wrinkle filler injections or facial rejuvenation.
It makes it possible to build volume in very specific, targeted locations on the face – old photos of you in the past can help with this.
No scarring
Using the patient's own fat results in a significant improvement to skin texture and elasticity, as fat tissue contains – not unlike bone marrow – stem cells that have a tissue-rejuvenating effect.
More long-lasting volume thanks to the body's own fat
Lipofilling – facial contouring using the patient's own fat – doesn't just have the advantage of a long-lasting result in the cheeks, temples or lips. The fat used comes from the patient's own body, which means that it is usually accepted by the body, which minimises risks. Furthermore, it has other effects in addition to building up volume, such as regeneration and improvement of the complexion thanks to improved collagen and elastin production in the body.
How lipofilling (injections of patient's own fat) works at Difine
Outpatient lipofilling – facial contouring using the patient's own fat – takes place in three stages: first, fat is retrieved from elsewhere on the body, such as the abdomen. Then the fat is prepared and finally injected. Dr Narwan will of course cover all the details of the facial lipofilling procedure with you in a preliminary consultation.
Hours
Monday
9 am - 6 pm
Tuesday
9 am - 6 pm
Wednesday
9 am - 6 pm
Thursday
9 am - 6 pm
Friday
9 am - 6 pm