Abdomino­plasty at Difine in Essen
Information on abdominoplasty
| | |
| --- | --- |
| Duration of surgery | 3 to 4 hours |
| Anaesthesia | Local or general anaesthesia |
| Clinic visit type | 1–2 nights |
| Check-up/aftercare | Compression corset for approximately 4 weeks |
| Suture removal | After about 14 days |
| Return to work | After 10 days |
| Physical recovery | After 4 weeks |
Are you excited about losing all those extra pounds? Yet have been left with slack, saggy skin? Or perhaps this extra skin is an unpleasant reminder of a pregnancy (or more than one). Or perhaps you simply have weak connective tissue, and as you age it has led to more and more excess skin and fatty tissue? In any of these cases, you don't need to be frustrated or embarrassed any more. A skin lift for your stomach, upper arms or thighs can help! And sometimes it can follow liposuction for an even more beautiful result.
Your Specialist for abdominoplasty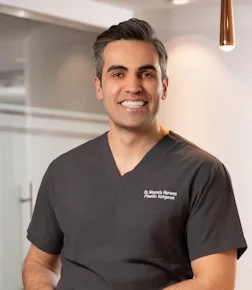 Dr. med. Narwan
Medical Specialist for Plastic and Aesthetical Surgery
Frequently asked questions about abdominoplasty in Essen
The advantages of abdominoplasty at Difine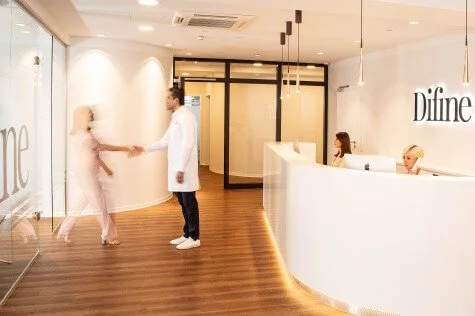 Specialised in surgical body contouring
Many years of experience; several hundred successful lift procedures
Our specialist is an expert in several different modern methods of lift procedures and will adapt the best method to suit your individual characteristics and preferences
Immense expertise in this area thanks to comprehensive training with internationally renowned plastic surgeons
Always up-to-date thanks to frequent participation in advanced training programmes
Abdominoplasty methods
There are several different methods of abdominoplasty:
Partial abdominoplasty
In a 'mini' abdominoplasty, excess skin is removed in the shape of spindle from the pubic mound to below the navel. The navel itself is not displaced. Our specialist places the scar in such a way that it is covered by undergarments. This surgical method is the right choice for people whose excess skin and fat in the lower abdomen is slightly or moderately pronounced.
Complete abdominoplasty
In this method, our specialist removes the excess section of skin and fat from the pubic mound to above the navel. The navel is split in half and pulled up to the level of your natural waist through the abdominal wall, then resewn in the new location. The entire abdominal wall is opened up to the bottom of your ribs and pulled downwards. The resulting scar runs along the lower abdomen and around the navel. The surgeon will place the scar in such a way that it is completely covered by undergarments. This method is performed when the patient has a very pronounced 'apron' of skin and fat.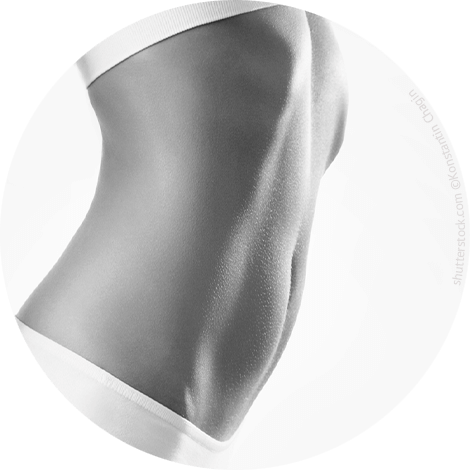 Costs for abdominoplasty
Each and every patient is unique because of their pre-existing anatomy and their individual desires. Dr Narwan adapts every surgical method for abdominoplasty to suit your needs. It depends on what type of lift will be performed and whether additional liposuction will be necessary. This is why we cannot state flat-rate prices for our treatments. The precise costs are calculated in a personal consultation following a physical examination.
Hours
Monday
9 am - 6 pm
Tuesday
9 am - 6 pm
Wednesday
9 am - 6 pm
Thursday
9 am - 6 pm
Friday
9 am - 6 pm