We'll get your breasts in shape
No other body part represents the sensuality and attractiveness of femininity like the breasts. But perhaps your breasts don't suit your proportions or what you would prefer, and your desire to have an operation to change the shape or size of your breasts is growing. This decision should be yours and yours alone, because nobody else knows what will make you most comfortable in your own body.
Luckily, in the modern world you no longer need to resign yourself to too-small, too-large or misshapen breasts. And if these physical attributes already have a strong negative impact on your sense of self-worth or sexuality, then the time to act is now! It doesn't matter whether your undesired breast form is something you were born with or the result of hormones or weight fluctuations (such as in puberty, after pregnancy/nursing or after significant weight loss).
Clean, straight lines for men, perfect curves for women
For many men, too, a well-shaped, masculine chest is very important. These men may suffer if their chest appears too feminine due to increase fat deposits or enlarged mammary glands. This condition, called gynaecomastia, is relatively easy to correct nowadays.
Would you like breasts or a chest that appears as natural as possible, without major scarring, and no appearance of having had surgery, or artificial feeling? Then Dr Narwan would be happy to have a detailed preliminary conversation with you about the options and risks of breast lifts, breast reduction or breast augmentation using implants or your own fat. The doctor looks forward to helping you achieve a better sense of self-worth and well-being thanks to a new, more aesthetically pleasing breast shape.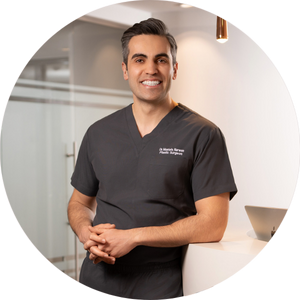 Perfect curves for a woman's bosom improve her sense of self-worth and comfort.
Dr M. Narwan
Hours
Monday
9 am - 6 pm
Tuesday
9 am - 6 pm
Wednesday
9 am - 6 pm
Thursday
9 am - 6 pm
Friday
9 am - 6 pm