Do you feel much younger than the passage of time that your face in the mirror reflects? Whether the cause is genetic or environmental – luckily for you, you don't have to resign yourself to ever-deepening wrinkles on your brow, around your eyes and mouth, and on your chin and neck, nor any ear or nose deformities you may have been born with. Nowadays, there are excellent methods and products that can counteract the visual effects of ageing with little risk, hardly any recovery time and results that quickly become visible. Why not take this opportunity to simply feel better about yourself?
No matter how you prefer to combat your wrinkles and lines – with a muscle relaxant, hyaluronic filler, vampire lift (PRP cell therapy), or even surgically through a facelift – the most important thing is to make sure only an experienced expert handles your face, someone who knows your facial anatomy well and can assess and treat any potential complications.
You can trust our experienced plastic surgeon
Dr Narwan is the perfect specialist; he pays special attention to your personal concerns and handle them in-depth and individually. Above all, they prioritise a natural appearance, e.g. following facial contouring through volume deficits, face lifts, wrinkle filler injections, ear pinning or eyelid lifts.
That's why detailed consultation and a precise analysis of your face always comes before any gentle injections or surgical treatments you may receive. Make an in-person appointment and let yourself be swept away by all the possible methods of rejuvenating your face in a wonderfully natural way.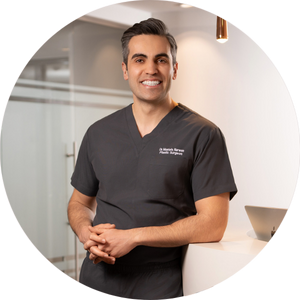 These days, there are many ways of making
yourself look younger for longer.
Dr. Narwan
Hours
Monday
9 am - 6 pm
Tuesday
9 am - 6 pm
Wednesday
9 am - 6 pm
Thursday
9 am - 6 pm
Friday
9 am - 6 pm