Vampire lift (PRP) – the best proof that beauty comes from within
The name may sound gruesome, but a vampire lift is a gentle, minimally invasive anti-aging treatment that acquired its name due to its therapeutic use of the patient's own (autologous) blood.
Using your own blood to improve your complexion
The specialist terminology is 'vampire lift PRP' (PRP = platelet rich plasma). The innovative method promotes the tissue's natural repair mechanism, triggering the breakdown of UV-damaged components. At the same time, it stimulates the body's production of collagen and hyaluronic acid.
Collagen especially is very important – it forms a sort of 'scaffolding' that helps your skin become more elastic. Collagen fibres also store large quantities of water, thus contributing greatly to your skin's fullness.
As many examples from our clinic show, a vampire lift (PRP) can lead to great results in the areas of skin rejuvenation, pore tightening, acne scar treatment and dark circles around the eyes. It can also stimulate hair growth.
Your Specialist for Vampire lifts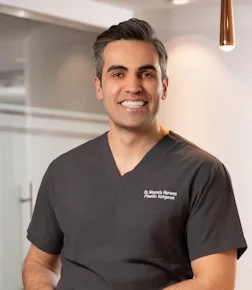 Dr. med. Narwan
Medical Specialist for Plastic and Aesthetical Surgery
Do you have any questions about facial treatments using your own blood?
The impressive advantages of a vampire lift:

Due to the autologous quality of the treatment, no foreign substances ever enter the body.
The injected blood plasma is accepted by the body without issue; there is no chance of allergic reaction.
The vampire lift is nearly painless and leaves no scarring. Any pain you may feel will also be significantly reduced thanks to an anaesthetic cream applied in advance.
We perform the vampire lift in our outpatient DIFINE clinic in Essen; it takes about 30 minutes.
The PRP method can also be combined with others, such as hyaluronic fillers that simultaneously give your skin moisture and volume.
After just a few days, there will be no evidence of the treatment on your face, and you can resume your normal life.
After the treatment, your skin will become smoother, fresher and fuller day by day.
Usually, all that is needed are 2–3 treatments, spaced about 4 weeks apart, depending on your age and skin quality.
After 2–3 months, the optimum result will emerge. This will last for 1–2 years, although regular touch-up treatments will keep your skin constantly looking younger and more revitalised.
A vampire plasma lift also has a powerful preventative effect – it stops connective tissue weakness, the skin's ageing process and wrinkles from occurring and slows the overall ageing process.
What to expect from a vampire lift
To carry out a vampire lift (PRP), we need a small amount of your blood. We will then put this through a centrifuge to produce highly concentrated blood plasma in the form of a platelet-rich concentrate. This plasma contains a high concentration of growth factors – specifically, 8 times more platelets than in normal blood. Our specialist then injects tiny amounts of this blood serum under the skin of your face. It has a natural filling effect on wrinkles of all sizes. The numerous growth factors trigger your body's repair mechanism and result in the formation of new cells, collagen, natural hyaluronic acid and elastin, as well as new, very fine blood vessels.
The vampire lift (PRP) is a rejuvenation powerhouse. Just about every Difine patient has loved their skin afterwards, with its increased fullness and elasticity; fresher, younger, rosier complexion; and softer contours and fewer wrinkles.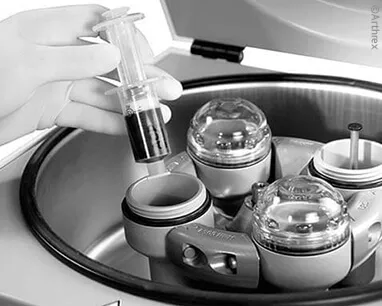 In the vampire lift – PRP procedure, a centrifuge separate the plasma from the red blood cells
Hours
Monday
9 am - 6 pm
Tuesday
9 am - 6 pm
Wednesday
9 am - 6 pm
Thursday
9 am - 6 pm
Friday
9 am - 6 pm