Facelifts – a very effective way to look younger
An overview of a facelift:
| | |
| --- | --- |
| Type of surgery | Inpatient |
| Duration of surgery | 3-5 hrs. |
| Anaesthesia | General anaesthesia |
| Dressing | Initial compression bandage for 1-2 days |
| Clinic visit type | Inpatient stay for 1-2 nights |
| Patient aftercare | Avoid working overhead |
| Bed rest | No |
| Recovery time | Approximately 1-2 weeks |
| Physical recovery | After 2 weeks |
| Aftercare from surgeon | Local cooling, scar care and protecting the scar from the sun |
| Return to work | After 1-2 weeks |
| Result | Lasts for many years after operation |
Are you not content with small measures, but would instead prefer to tackle facial rejuvenation once and for all, with very effective results? Then getting a facelift at Difine in Essen is the right choice for you.
Your Specialist for Facelifts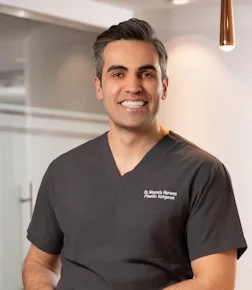 Dr. med. Narwan
Medical Specialist for Plastic and Aesthetical Surgery
Do you have any questions about getting a facelift at Difine in Essen?
Getting a facelift at Difine in Essen has some impressive advantages: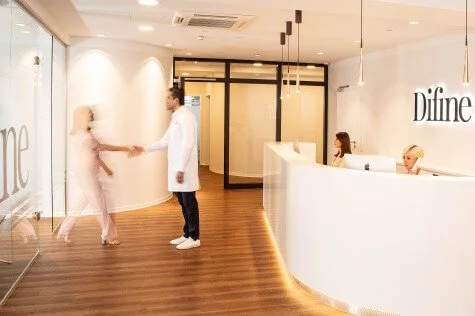 A facelift is an effective solution that ensures 10–15 years of a more youthful, fresher appearance
A facelift will make you look about 10 years younger
Your ability to change facial expressions will not be affected in any way
After an expertly conducted facelift, scars are virtually invisible
During a classic facelift, the neck is lifted as well, which helps you look even younger.
Get those years back easily with a facelift
If your wrinkles are consistently becoming more and more pronounced and losing volume, and your 'whole face is starting to sag', then a facelift is the most effective way of restoring the natural beauty of your face and neck. Particularly when wrinkles are very deep and cannot be 'whisked away' through filler injections, a facelift is a good option for making your appearance young and fresh again. However, a facelift does more than just tone your facial skin superficially. The goal of a facelift should always be to shape the volume proportions of the face so that they are once again in balance.
The incision begins at the hairline (at your temple) and runs along your ear. It then travels slightly upwards, around the earlobe, and ends in the hair at the nape of your neck. It's very important to remember that a facelift doesn't just tauten the skin – it also tautens the tissue under it (if necessary) and removes excess skin. The operation can be carried out with the patient either in twilight sleep or under general anaesthesia. We use the 'tumescence technique': a numbing solution is injected into the tissue, which loosens fat cells and constricts blood vessels, reducing blood loss afterwards. We also employ modern suturing techniques that result in very inconspicuous scars along natural wrinkles and into the hairline. For a naturally beautiful result after your facelift, our doctor of course always keeps in mind the natural ageing process for your skin and the areas of the face that are affected.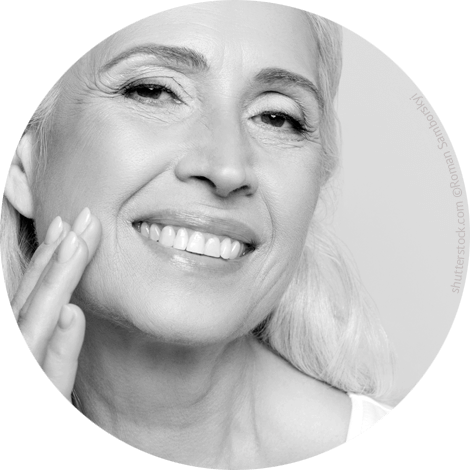 The only beautiful facelift is a natural one
For Dr Narwan here in Essen, it's especially important for a facelift to make your face look natural, not mask-like. We incorporate all of our extensive expertise in order to ensure this. Our facelifts can delay the ageing of the skin by several years, giving your face a few 'extra years' of youthfulness.
For a classic facelift, we combine the facelift procedure with a neck lift, which makes the youthful effect more holistic. However, this is never a 'standard' procedure. We prepare every facelift in advance through a detailed consultation and surgery planning that is attuned to your own personal physical attributes. Another decisive factor is which type of facelift will produce the best result for your face. Dr Narwan will provide you with very detailed information about their approach and incisions. During the operation, the middle section of your face and your neck will be tautened.
Hours
Monday
9 am - 6 pm
Tuesday
9 am - 6 pm
Wednesday
9 am - 6 pm
Thursday
9 am - 6 pm
Friday
9 am - 6 pm