Breast lifts at Difine in Essen
Information on breast lifts
| | |
| --- | --- |
| Type of surgery | Inpatient |
| Duration of surgery | Approximately 2–3 hours |
| Anaesthesia | General anaesthesia |
| Dressing | Bandage for 2 days, support bra for 6 weeks |
| Clinic visit type | Inpatient stay for 1–2 nights |
| Patient aftercare | Scar aftercare after wound has healed |
| Bed rest | No |
| Recovery time | Approximately 2 weeks |
| Physical recovery | After about 3–4 weeks |
| Aftercare from surgeon | Suture removal not necessary |
| Return to work | After about 2–3 weeks |
| Result | Long-lasting |
But maybe it's not really the size of your breasts that's the problem? Maybe you're much unhappier with the fact that your breasts have become saggy after one or more pregnancies or significant weight loss? Or has age reduced your breasts' perkiness and volume?
If any of this applies to you, sport won't help solve the problem. That means that a breast lift is the best option to get you feeling much better without a lot of effort.
Your Specialist for breast lifts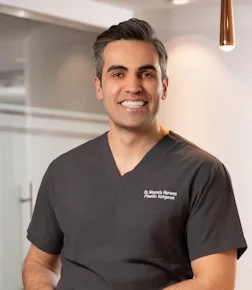 Dr. med. Narwan
Medical Specialist for Plastic and Aesthetical Surgery
Frequently asked questions about breast lifts in Essen
The advantages of breast lifts at Difine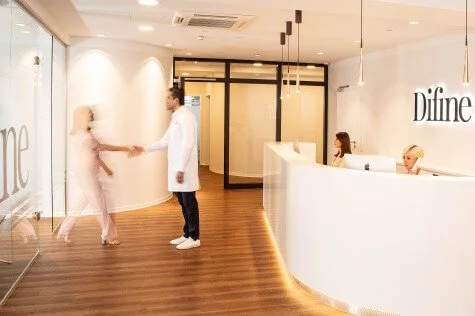 Specialised in cosmetic breast surgery
Our specialist is an expert in several different modern methods of breast lifts and will adapt the best method to suit your individual characteristics and preferences
Immense expertise in this area thanks to comprehensive training with internationally renowned breast surgeons
Always up-to-date thanks to frequent participation in advanced training programmes
Breast lift methods
During a breast lift, our specialist removes excess skin with the patient under general anaesthesia and then reshape the breast. There are three different scar shapes in total: 1. Only around the nipple – 2. Around the nipple and then straight down to the inframammary line (I incision) – 3. In addition to the I incision, another scar along the inframammary line (reverse T incision).
Costs for a breast lift in Essen
Each and every patient is unique because of their pre-existing breast anatomy and their individual desires. Our specialist adapts every surgical method to suit your needs. This is why we cannot state flat-rate prices for our treatments. The precise costs are calculated in a personal consultation following a physical examination.
Hours
Monday
9 am - 6 pm
Tuesday
9 am - 6 pm
Wednesday
9 am - 6 pm
Thursday
9 am - 6 pm
Friday
9 am - 6 pm